WHO WE ARE

CommunityWorx Staff Leadership
We believe communities built on equity and collaboration enable youth to reach their full potential.
Barbara is a "Military Brat" (once a "Brat" always a "Brat), who was born in Berlin, Germany, where she lived until age 16. She received her BBA from Augusta University in Augusta, GA, and received her MBA from Meredith College in Raleigh, NC. Barbara is passionate about nonprofit work and became co-founder of a nonprofit organization whose mission it is to search for innovative ways to achieve socio-economic equalities in communities through holistic and entrepreneurship based education, to include education in "21st Century Jobs" technology and the STEM model. She is active in both the communities in which she lives and works by serving on several boards and volunteering her time to causes close to her heart, which include workforce and economic development; access to health care; issues of equity, diversity and inclusion, as well as other issues in the social justice space. Barbara considers herself a "life-long student" of all things holistic and spiritual, with emphasis on how those concepts influence one's activism. She is fluent in German, a yoga enthusiast, and includes in her spiritual practice daily meditation and annual silent retreats. Barbara has been a part of the team since 2004.  
Valecia is a single mother of an amazing daughter and two beautiful grandchildren. As a native of Chapel Hill and a product of the Chapel Hill Carrboro City School district, she has been a part of the team since graduating from high school in 1981. With a passion for service and people, Valecia brings a wealth of knowledge, creativity and compassion to her work. 
Eboni is a native of Miami, Florida and has called North Carolina for the past 17 years.  Her love and passion for nonprofit work began at the age of 18.  As her love for the nonprofit sector grew over the years, she knew she needed to pursue her dream of service and community, not only as a practitioner, but also as a volunteer.  Eboni received her BBA from South Carolina State University and MPA from North Carolina Central University.  In her spare time Eboni lends her expertise to organizations focusing on empowering youth and women.  She has been a member of our team since June 2022. 
Bryce Nasir Bowden (He/Him/His) is an experienced educator, performer, and community activist from Greensboro, North Carolina. After almost 15 years of working with children within organizations like SAY: The Stuttering Association for the Young and The Boy Scouts of America, he is excited to be joining the CommunityWorx team as the Project Impact Programs Coordinator. Bryce has spent the past 7 years working with the Chapel Hill-Carrboro City Schools district where he was an elected official of the School Improvement Team, The Superintendent's Classified Employees Advisory Council, and his schools' resident dance DJ. Having a vast art background, Bryce is very passionate about CommunityWorx's original mission statement and how it's evolved over our seventy-year history. Bryce is happy to contribute to making a larger impact on our local population.
Charles came to work with the organization after a nine-year career in the mini-storage industry, where he managed two local storage properties with combined annual revenues exceeding $1.8 million. Before that, he spent many years in printing and publishing. Charles earned a B.A. in Economics from UNC-Chapel Hill and has a Master's in Information Science from N.C. Central University. He is an Army veteran whose hobbies include furniture repair and restoration. He also enjoys playing the guitar and piano. Charles has been a part of the team since 2013.
Vic is a Queer Nonbinary artist, advocate and activist who relocated to Orange County in 2022. Drawn to CommunityWorx because of shared core values and priorities, Vic brings with them an array of community-building experience as well as a unique education. They graduated from Appalachian State University in 2019 with an Interdisciplinary degree in Inclusive Therapy Studies. Vic is passionate about working with individuals and communities impacted by incarceration and has worked both inside prison walls and outside of them to foster supportive community and creative opportunities. It is Vic's belief that genuine connection, equality in action, and mutual aid are the most important elements of a sustainable and thriving community. Vic hopes that their experiences, education, and passions will help to further strengthen the relationships fostered through both CommunityWorx, and YouthWorx on Main.
CommunityWorx Managers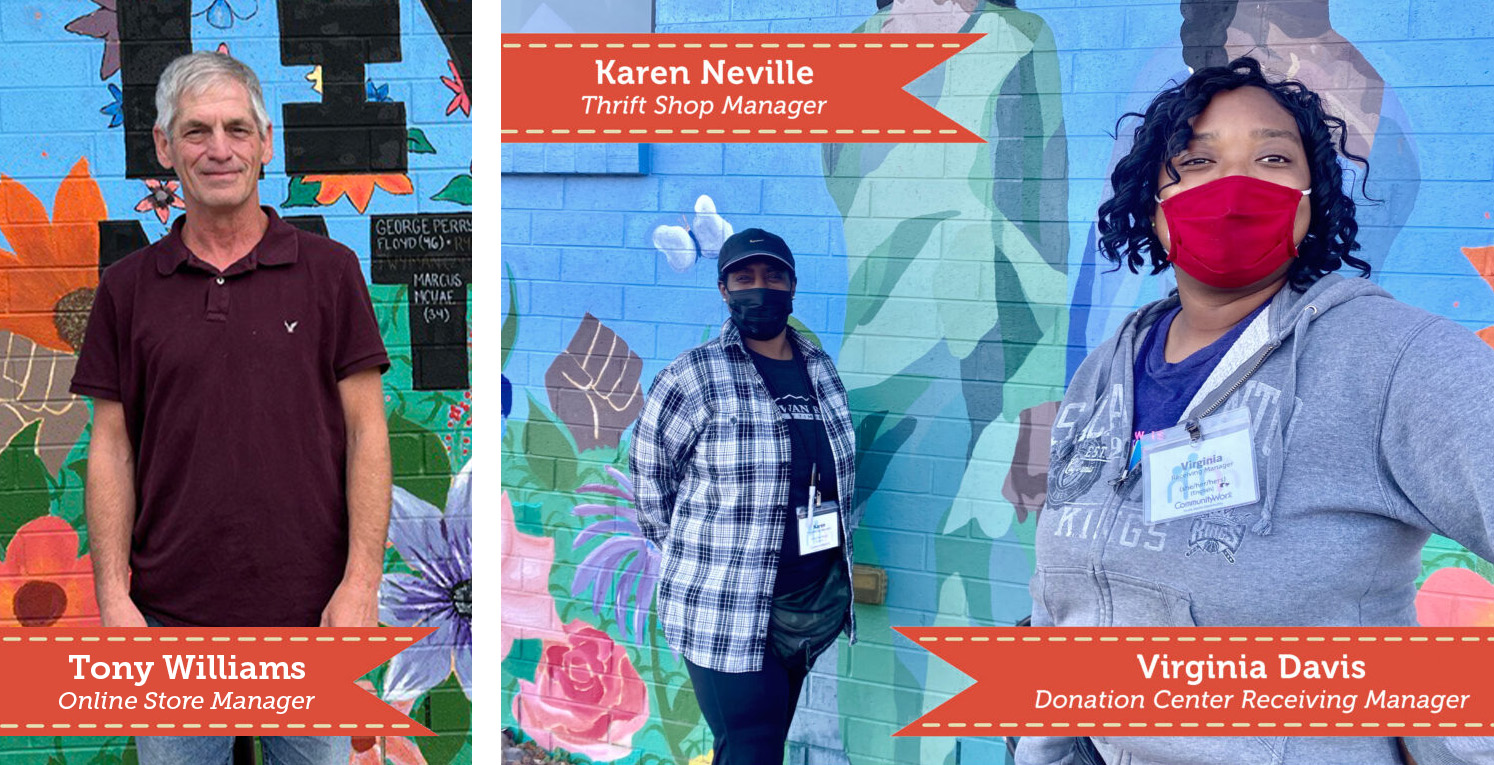 Tony Williams
Online Store Manager

Karen Neville
Carrboro Store Manager
Virginia Davis
Receiving Manager

Employment Opportunities
If you're looking to change the world, we're looking for employees with big ideas, bright minds and an eagerness to grow professionally and personally.